Artists can now create a no-code NFT marketplace with Authic Suite & Paper
Amsterdam-based startup, Authic Labs launches Authic Suite integrated with Paper.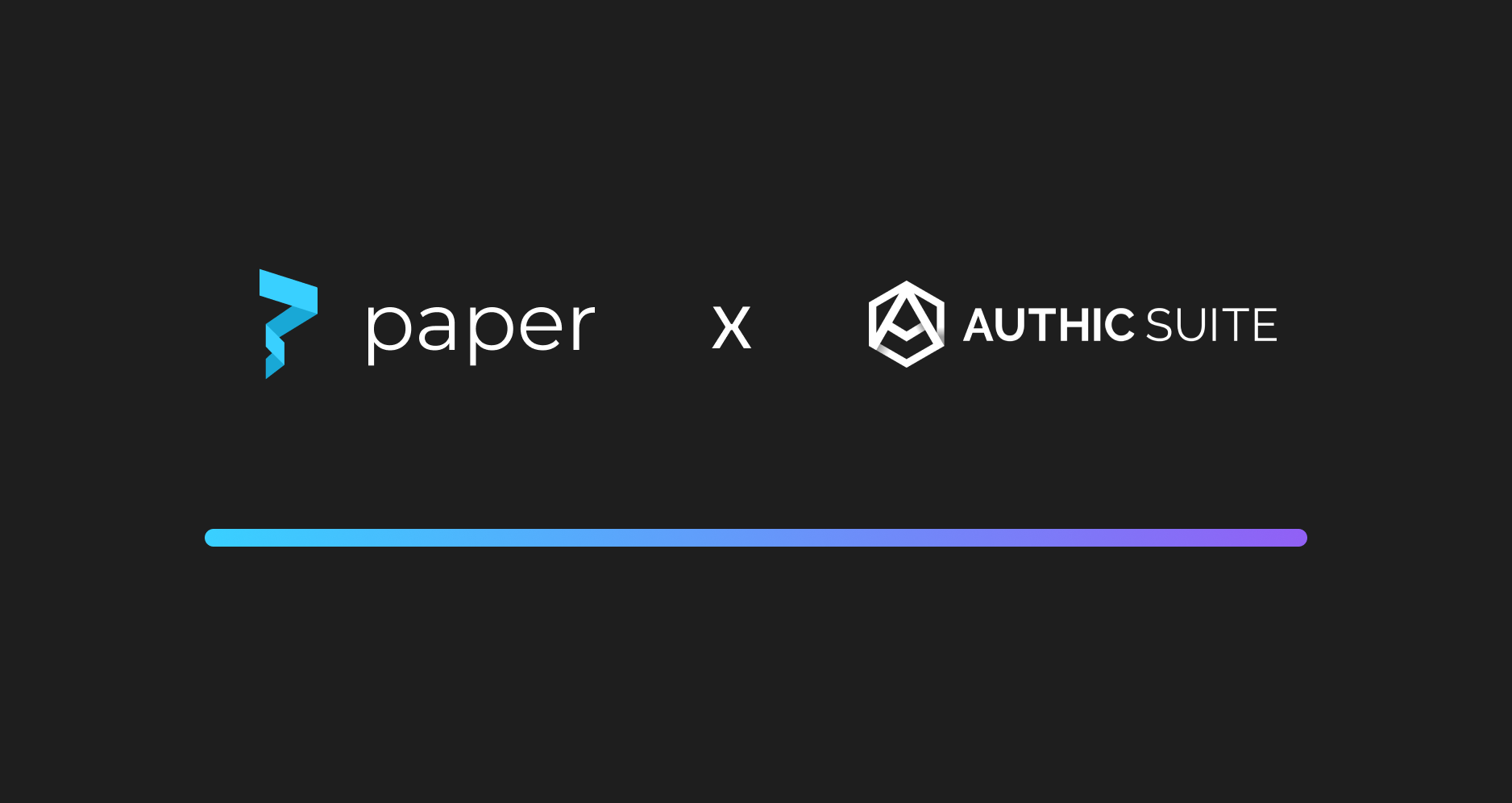 What is Authic Suite?
Founded in 2021, Authic empowers artists to amplify their creativity and reach through NFTs. On September 19th the company launched Authic Suite, a blockchain SaaS solution that helps artists, galleries, museums, real-estate investors and luxury fashion retailers to create their own white-labelled digital assets marketplace. Authic has chosen to integrate Paper's on-ramping infrastructure directly into the tool to ensure every marketplace made with Authic Suite has the ability to accept credit card payments, Apple Pay, and iDEAL payments. In addition to allowing artists and brands to accept additional methods of payment for their NFTs, the SaaS tool also stores unique documents such as authenticity certificates or ownership track records.
Main benefits of Authic Suite
Secure, unfakeable, and permanent storage of data
No-code, low-maintenance platform
Enhanced branding through the customization feature
Integration into Web3 community
Accessible payment options powered by Paper
What is on-ramping infrastructure & why is it is an important part of Authic Suite?
On-ramping infrastructure covers everything from crypto wallet creation to accessible payment options. In Authic's case, providing their end users with payment options that go beyond crypto as well as helping individuals set up their first crypto wallet is a high priority. As Authic's CEO, Wouter Kloosterman, put it:
"The partnership with Paper.xyz is the core of making our platform accessible to a wider audience that doesn't have a tech background. We are very excited to be introducing credit card, Apple Pay and iDEAL payments"

- Wouter Kloosterman, CEO of Authic.
At Paper, we offer an end-to-end checkout solution that provides both the back-end payments infrastructure and the front-end UX for anyone looking to sell NFTs. We also offer non-custodial wallet creation and fraud detection to help individuals without crypto wallets get set up hassle-free. Founded in 2022, our mission is to make NFTs more accessible and useful for everyone. To date, we have worked with over 1500 projects, brands, marketplaces, launchpads, and creators!
Paper is delighted to be Authic's web3 on-ramping infrastructure of choice and we look forward to continuing to support the payments that power Authic Suite and the companies that use it. Authic will also be launching Authic.io, the company's own block-chain based digital assets marketplace, on September 29th with payments powered by Paper.
To learn more about Authic, visit https://authic.io/, and to learn more about Paper, visit https://withpaper.com/ or join our Discord community!