Ethereum's Shanghai Upgrade: An Overview for Crypto Developers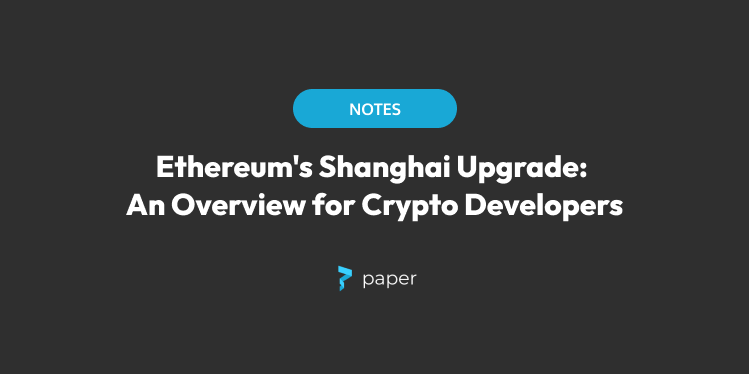 Table of Contents
Introduction
Ethereum's Transition to Proof of Stake
Shanghai Upgrade: Key Technical Aspects
3.1 Staked ETH Withdrawal Mechanism
3.2 Additional Features and EIPs
Market Impact: Staking Rates and Network Security
Unstaking and Potential Market Effects
Conclusion
1. Introduction
Ethereum's Shanghai Upgrade, aka "Shapella" is an essential milestone for the Ethereum network. The upgrade finalizes Ethereum's transition to a full proof-of-stake network and unlocks over $33 billion in staked ETH. In this article, we'll go through the technical details, the implications for developers, and the expected impact on the Ethereum ecosystem.
2. Ethereum's Transition to Proof of Stake
Ethereum has been on this journey to move from proof-of-work to proof-of-stake for a while now. In a nutshell, users can stake their ETH to help validate transactions, which helps secure the network, and they get newly generated ETH as rewards. Staking started in 2020, and since then, people have contributed a whopping $34.56 billion in ETH to the network!
3. Shanghai Upgrade: Key Technical Aspects
3.1 Staked ETH Withdrawal Mechanism
With the Shanghai Upgrade, users can finally access their staked ETH and rewards. If you directly staked a minimum of 32 ETH with Ethereum, you can withdraw your rewards or even the entire deposit. However, due to high demand and limited block space, this might take a few days. If you staked through a pool or a centralized exchange, you might have to wait a bit longer, as each service has its own withdrawal schedule.
3.2 Additional Features and EIPs
The upgrade also introduces four Ethereum Improvement Proposals (EIPs) aimed at making things better for developers:
EIP-3651: Lowers gas costs for accessing the "COINBASE" address (unrelated to the Coinbase exchange), which can improve Maximal Extractable Value (MEV) payments.
EIP-3855: Enables "Push0," a code that reduces gas costs for developers.
EIP-3860: Caps gas costs for developers using "initcode" for smart contracts.
EIP-6049: Notifies developers about the depreciation of the "SELFDESTRUCT" code, which also cuts gas fees.
4. Market Impact: Staking Rates and Network Security
Currently, only ~15% of ETH is staked. But after the Shanghai Upgrade, this is expected to jump to ~30%, increasing the dollar value of staked ETH from ~$30B to ~$60B. This boost will make the network more secure and better able to withstand potential attacks.
5. Unstaking and Potential Market Effects
Now, with over 18 million staked ETH being unlocked, you might wonder about the market effects. Some analysts think it could cause a price rally or a crash, as people might rush to sell their tokens. But selling pressure will likely be spread over several days, which will give buyers a chance to analyze the situation.
Celsius Network, a bankrupt crypto lender, and Kraken, a U.S.-based crypto exchange, could also affect the market. Celsius might sell its 158,176 staked ETH to pay creditors, while Kraken recently agreed to stop its staking operations in the U.S., possibly leading to the unstaking of its 1.2 million ETH.
6. Conclusion
In short, the Ethereum Shanghai Upgrade is a game-changer, marking the end of Ethereum's transition to a full proof-of-stake system. Developers will benefit from improved gas fees, better network security, and staked ETH withdrawal features.