The Simplest Way to Sell Your NFTs
Identifying the best way to sell your NFTs can be challenging. What if there was an easier way to increase your number of prospective buyers while also onboarding new individuals into web3?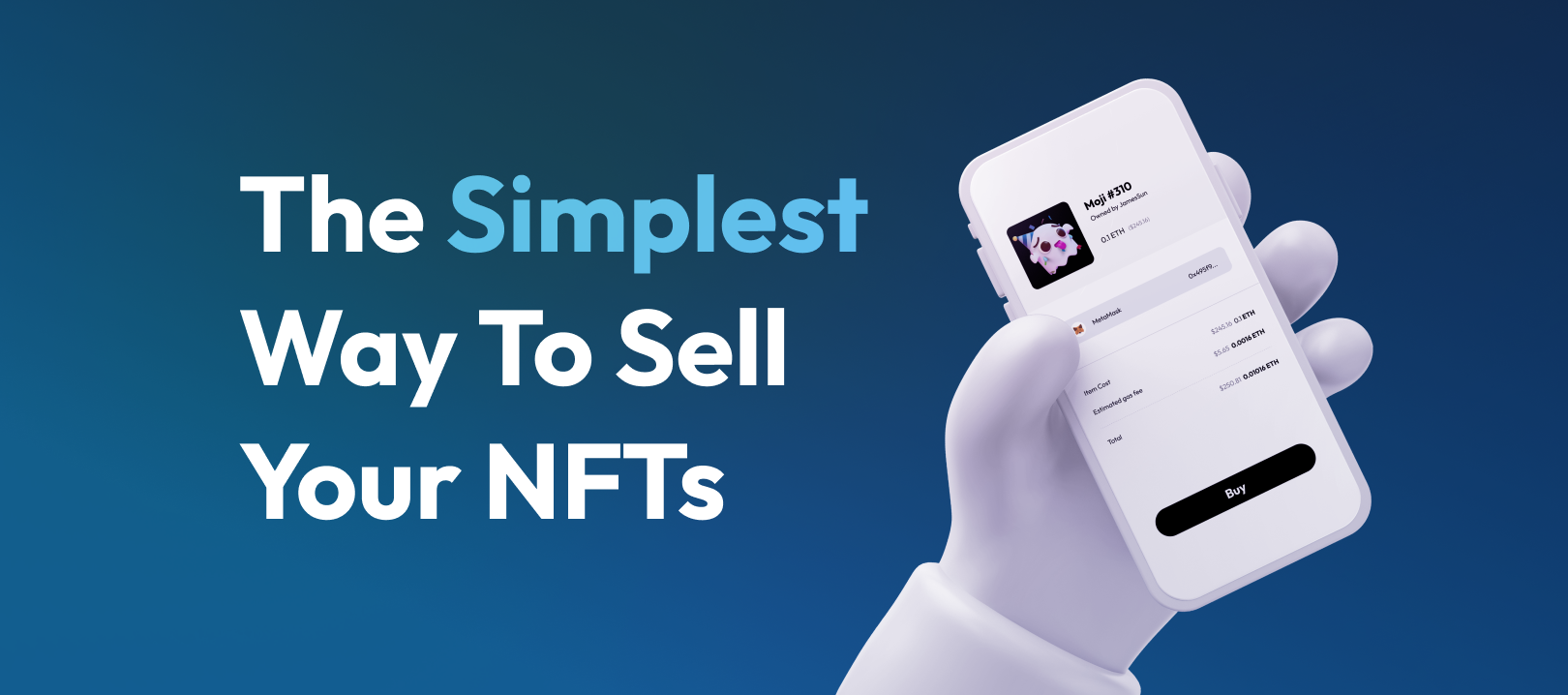 The challenge
Whether you are new to the web3 scene or are a seasoned expert, we've all experienced some level of friction when it comes to purchasing NFTs.
As a buyer, there are several steps involved to successfully mint or purchase an NFT. Typically it starts with owning a crypto wallet, ensuring you have the right cryptocurrency needed to make a purchase, connecting your wallet to the minting site, signing for the transaction, and paying gas fees in the most straightforward case. Unfortunately, the straightforward case isn't always the most common case. With random surges in gas feeds due to high network activity, it isn't uncommon to need to transfer additional funds into your wallet. This again incurs another set of steps such as using an exchange to transfer more funds into your wallet.
These steps assume that a user already has a crypto wallet however for many people, simply not having a crypto wallet in the first place is enough to prevent someone from purchasing your NFTs.
As a creator, developer, builder, or brand, this makes it important to consider ways you can simplify the buying experience for your prospective buyers. In this post, we'll be diving into how you can simplify the process of selling NFTs to increase your buyer conversion rates and sales volume using Paper.
Simplifying NFT checkouts
The end-user experience is becoming increasingly important in web3. In order to onboard more individuals into the NFT space and capture larger audiences, we need to offer users a purchasing experience as seamless as what already exists in e-commerce: payment using credit card.
Simplifying the buyer experience not only benefits the buyer through making it easy to purchase your NFTs, it also helps you as a seller in capturing a larger total customer base.
Credit card enabled checkouts play a huge part in making NFTs more accessible to the general public yet many NFT checkouts today do not yet offer this functionality.
How can I accept credit card payments for my NFTs?
To accept credit card payments when selling your NFTs, Paper allows you to create frictionless NFT checkout experiences that do not require users to have an existing crypto wallet or cryptocurrency.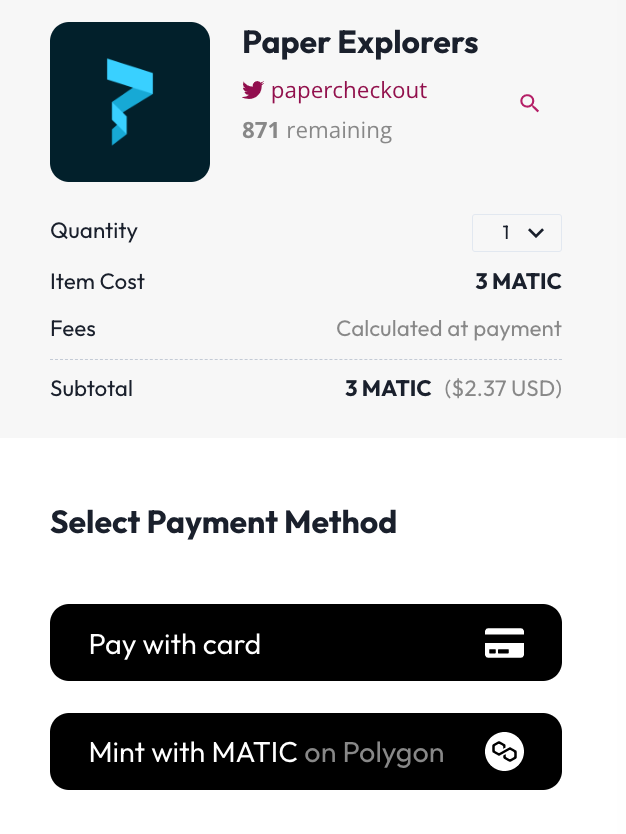 All you need to do is bring your own smart contract or create one using Thirdweb then create your checkout experience in one of 3 ways using Paper:
Option 1: No-code dashboard
For those who are looking for a quick and easy way to set-up a credit card enabled NFT checkout with zero code needed, set up a free account with Paper and navigate to your dashboard. Within the dashboard you can create a new checkout in a matter of a few clicks. If you are looking for a no-code solution and a fully-managed checkout experience, this might be the best option for you.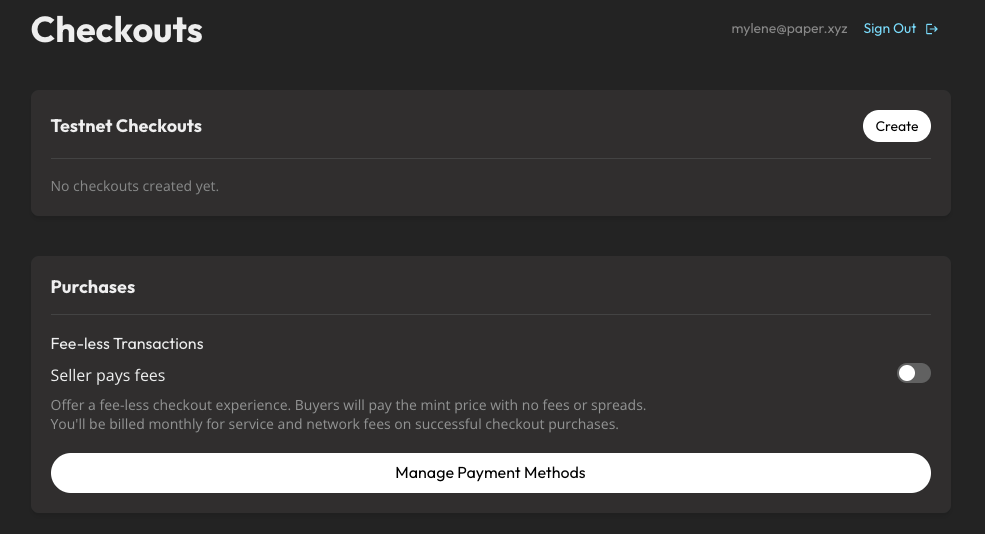 Option 2: API checkout
If you are looking for a way to programmatically test and generate checkouts with more flexibility than the no-code option, this could be the option for you. The main benefit of this option over the no-code option is that developers can run additional tests on the checkout experience aside from just manual testing if that is desired. More details on how to use our API and set up a checkout can be found in our developer documentation linked here.
Option 3: API + React SDK
For those who would like to create a fully white-labelled checkout experience, developers can create a checkout using the API then use this in combination with Paper's React SDK. Our SDK allows developers to extensively customize the checkout process. To learn more about our SDK and how to use it, visit our developer documentation linked here.
Summary
If you are looking for the easiest way to onboard more individuals into web3 and maximize transaction volume, offering buyers the ability to purchase with credit card is a no-brainer. At Paper, we offer multiple options to help you set up the simplest checkout experience for your buyers no matter if you are technical or non-technical.
---
Why choose Paper?
Paper makes it easy for you to sell your NFTs by helping you meet your audience where they are through user-friendly credit card checkout experiences.
We support NFTs on Ethereum, Polygon, Avalanche, and Solana
We handle calling your smart contract in addition to payment processing
We support all 50 states in the United States as well as transactions in nearly every country
Paper is free to use for sellers!
These are just a few of the many things users love about Paper. If you have any questions or are a creator, marketplace, launchpad, or brand that would like to get in touch, shoot us a message at team@paper.xyz or join our Discord community!